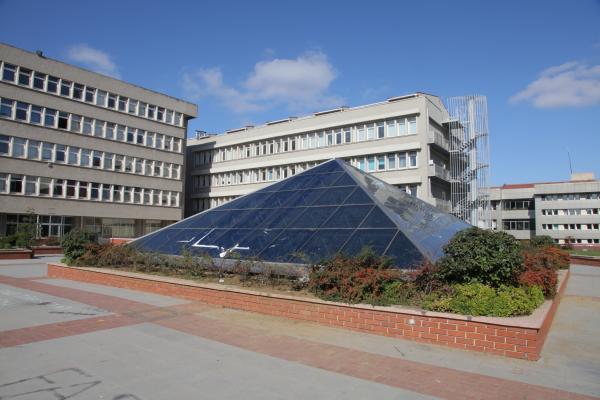 Bogazici University, founded in 1863, is the top ranking public university in Turkey according to the central university exam results. The Computer Engineering Department (BU-CmpE) ranks as the top CmpE department in Turkey according to the Higher Education Council's number of publications per faculty list, with its 21 full-time faculty members, 9 research labs, more than 250 graduate students and 300 undergraduate students. The department is internationally recognized for its education and research activities (
QS World University Ranking for BU
 &
 QS University Rankings: EECA 2016 in comparison
). The Computer Engineering Program is accredited by 
ABET
. 
The mission statement of Bogazici University School of Engineering is as follows:
The mission of the Bogazici University School of Engineering is to educate individuals for careers of leadership and innovation in industry, government and educational institutions; to expand the engineering knowledge base through original research; to contribute through professional services towards more prosperous and sustainable society.
In light of the above mission statement, Department of Computer Engineering has established the following mission for itself:
Department of Computer Engineering Mission Statement
The mission of the Computer Engineering program is to graduate economically, socially and ethically conscious engineers that are equipped with the necessary analytical, mathematical, decision-making, computing, communication, teamwork and leadership skills that they can use to creatively design, implement, manage, maintain and improve a wide spectrum of computer hardware, software and information systems in the modern society.
Additionally, the program educational objectives of our department has been established as follows:
Department of Computer Engineering graduates will
Pursue the practice of computer engineering in various industrial sectors not only at the national but also at the international level.
Pursue advanced studies and engage in research activities in world-class institutions.
Pursue a life-long career of personal and professional growth in the rapidly changing computing world with ethical consciousness and global awareness.
Be able to assume innovator, executive, leadership, and entrepreneurial roles in their careers.
List of Computer Engineering Student Outcomes:
An ability to identify, formulate, and solve complex engineering problems by applying principles of engineering, science, and mathematics.

An ability to apply engineering design to produce solutions that meet specified needs with consideration of public health, safety, and welfare,

as 

well as global, cultural, social, environmental, and economic factors.

An ability to communicate effectively with a range of audiences.

An ability to recognize ethical and professional responsibilities in engineering situations and make informed judgments, which must

consider the impact of engineering solutions in global, economic, 

environmental, and societal contexts.

An ability to function effectively on a team whose members together provide leadership, create a collaborative and inclusive environment,

establish goals, plan tasks, and meet objectives.

An ability to develop and conduct appropriate experimentation, analyze and interpret data, and use engineering judgment to draw conclusions.

An ability to acquire and apply new knowledge as needed, using appropriate learning strategies.

Knowledge of probability and statistics, including applications appropriate to computer engineering.

Knowledge of mathematics through differential and integral calculus and basic sciences.

Knowledge of engineering topics including computing science necessary to analyze and design complex electrical and electronic devices,

software, and systems containing hardware and software components.

Knowledge of discrete mathematics.
1976 : "Computer Science" graduate program is established within the Faculty of Arts & Sciences.
1982 : "Computer Engineering Department is established within the Faculty of Engineering.
Computer Engineering undergraduate program is designed to meet the requirements of IEEE/ACM Joint Curriculum Committee.
Acceptance of new students to "Computer Science" program is frozen to allocate more resources to the new program.
1986 : First group of students graduated in Computer Engineering undergraduate program.
Computer Engineering MSc. and PhD programs are designed and started.
1988 : As a result of the rapid development of the Department and the enhancement via graduate programs, the Department is moved from Computer Center to the newly completed "Educational Technology Building" . Besides continuing research and education in Computer Engineering , the department organized to give service to entire University in computer literacy education and associated PC Laboratory service with the following facilities :
Open to the benefit of entire University 5 PC laboratories equiped with total of 60 PC's (One is furnished as pilot classroom for Computer Aided Education ).
"Software Engineering" and "Computer Hardware" educational laboratories.
"Artificial Intelligence", "Computer Aided Design" and "Robotics" research laboratories.
A minicomputer Laboratory giving service with a 7 terminal PDP 11/23 minicomputer.
1992 : Both undergraduate and graduate programs are revised to comply with the new report published by IEEE/ACM joint Curriculum Committee. Service courses are reorganized to give better service.. Total number of students registered in the Department reached to 360 including 57 graduate students.
1998 : Quality of education of the Computer Engineering Program is internationally certified by ABET acreditation board.
2003 : Software Engineering MSc program is started to reeducate 4 year graduates as software engineers at the graduate level to meet the high demands of industry for software professionals.
2004 : Computer Engineering Department reassured second time via ABET acreditation that it preserves high quality of education which was certified by the same institution 6 years ago.
2006 : Modernization and reinforcement of "Educational Technology Building" against earthquake hazard is completed . Computer Engineering Department which the size of staff has reached to 19 full time and 8 part time faculty with 21 research and teaching assistants moved back to its renovated building from a temporary stay in Hisar kampus.
2016: ABET Accreditation is renewed.
Computer Engineering Graduation Data
Academic Year / Prep Class / Freshman / Sophomore / Junior / Senior / Undergraduates (total) / Graduates
2011-2012             85               57               84              53        112                306                       55 (class of 2012)
2012-2013             76               88               59              84        108                339                       56 (class of 2013)
2013-2014             83               72               89              57        133                351                       50 (class of 2014)
2014-2015             68               89               72              89        146                464                       58 (class of 2015)
2015-2016             78               81               89              71        162                481                       64 (class of 2016)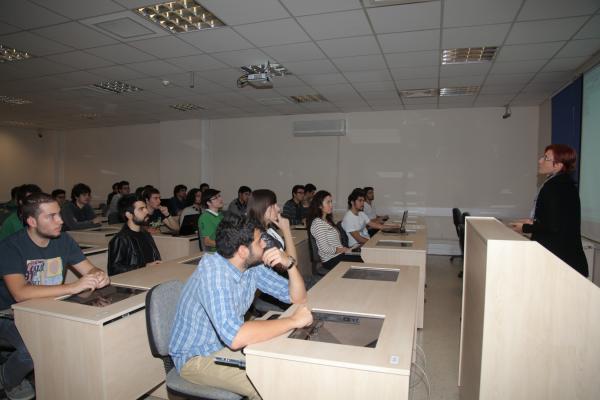 Located in the North campus, Computer Engineering department building is renovated in 2006 and 2016. The 8 floor building contains faculty and administrative offices, research laboratories, classrooms, computer laboratories and student lounges. Each classroom is equipped with a computer and a projector. Three of the classrooms are equipped with a total of 220 computers for student usage during practical lectures. The computer screens are placed inside the desks to faciliate lecturing. Bogazici University Computer Engineering Department has the highest number of computers per student among Turkish universities:
Introductory Programming Laboratory/Classroom: 220 computers with Intel i5 processors, 8 GB RAM, and TFT screens (originally established in 2006, renewed in 2011 and 2016).
Hardware Laboratory: 33 computers with 3.50 GHz, Intel i7 processors, digital systems, FPGAs, various types of microprocessors (renovated recently).
Together with the research laboratories, there are about 400 computers in the department which are constantly renovated.
A room, at the entrance of the department building, is dedicated to students as a student lounge for studying and relaxing.