Description
University of Bogazici, Department of Electrical-Electronics Engineering & Department of Computer Engineering invite project proposals for a summer workshop on multimodal interfaces, to be held in Istanbul, Turkey from July 16th to August 10th, 2007.
Please send a one-page notification of interest, with a summary of project goals, related work packages and deliverables. The project definitions are expected until December 20th, 2006
The previous two workshops, namely eNTERFACE'05 in Mons, Belgium and eNTERFACE'06 in Dubrovnik, Croatia have had an impressive record of success. In effect they have amply proven the viability and usefulness of this original workshop. eNTERFACE'07, planned by Bogazici University, intends to continue and take one step further this line of fruitful collaboration by inspiring competitive projects in the area of multimodal interfaces, by inviting a team of leading professionals and by encouraging graduate and undergraduate students.
You may refer to project descriptions for suggested topics.
Some of the highlights of the working style of the project are as follows:
The workshop will run around well-planned challenging projects within four complete weeks. It is expected that all students participate to the project during the entire period. Each week will have at least one tutorial on the state-of-the art survey of a specific multimodal interface, given by an invited speaker.


Every project will have an area expert throughout the whole month. The area expert will have the role of project advisor and will guide the research. These senior researchers may tend to more than one project.


Every week there will be presentations of the results achieved by project groups. The workshop will terminate with the seminar-style presentation of the achievements of individual projects. Project groups must deliver a professional report on their accomplishments, present the novel results and show the usability of the developed software.


The ultimate goal is to make this event a unique opportunity for students and experts all over Europe to meet and effectively work together, so as to foster the development of tomorrow's multimodal research community.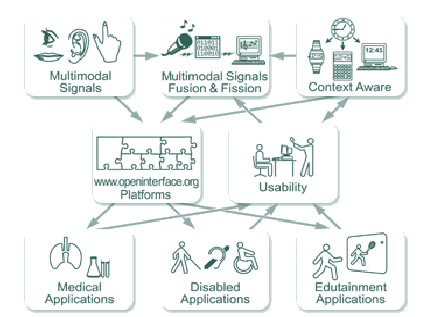 Project proposals on all themes related to the special interest groups of the SIMILAR network of excellence are solicited, especially those that cover more than one SIMILAR theme and are of interdisciplinary nature. Proposals towards integration of the developed toolboxes into OPENINTERFACE.ORG will be favored.
The Project Themes
Multimodal signal analysis and synthesis
Fusion and fission of modalities
Context aware adaptation
Edutainment and learning assistance
Medical applications
Disabled applications
Usability
| | |
| --- | --- |
| Important Dates | |
| December 20th, 2006 | Reception of a 1 page Notification of Interest, with a summary of projects goals, related work packages and deliverables. |
| May 2nd, 2007 | Teams are formed: Deadline for participation application. |
| July 16th - August 10th | eNTERFACE'07 Workshop |